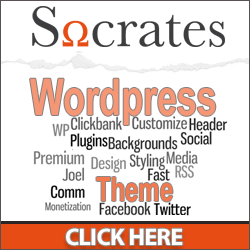 From my experience in teaching Internet marketing courses in Toronto for more than two years, I have observed that many beginners have a hard time to find an easy-to-use WordPress theme for their niche website.  They usually spend many hours trying to make a WordPress theme work the way they want and only to find themselves frustrated in the end.
If you have the same experience or you are about to build your WordPress website, I have good news for you.  Socrates theme is a premium WordPress theme built by the bestselling author Joel Comm (the author of "KaChing: How to Run an Online Business that Pays and Pays") and his partner Dan Nickerson.  They develop this premium WordPress theme specially to meet the needs of online marketers and niche bloggers.  You can setup a professional looking website in minutes using Socrates theme.  You can insert Google Adsense code, Clickbank code and other affiliate links easily into your website and turn your website into a money machine.  Your website is Search engine optimized. Socrates theme is easy to use and it has many powerful features.
Here are just some of the features included in Socrates theme version 3.0:
Custom Header Design System
220 + Niche Headers
1000's of Design Combinations
SEO Optimized
Built in Clickbank Monetization
Built in Social Media Slider
Squeeze Page Templates
Sales Page Templates
Skinny Templates
Two New Magazine Layouts
Portfolio Templates
Featured Sliders on Magazine Layouts
Shortcodes
If you are not sure what all these feature do, watch this live demo video.
I have been using Socrates theme since 2010 and I love it.  What I like the best is that I can create a sales page or landing page easily using the templates.  I think many free WordPress website themes do not have such features.  The Socrates theme 3.0 version has many new features such as magazine layouts which can make your website look very professional.
One reason you want to use premium WordPress themes is that you need dependable technical support from the developer.  Socrates theme has a great support forum where you can ask questions and get help quickly.  Dan Nickerson and his team members are very helpful and friendly.  Besides the support forum, Dan Nickerson has also created many video tutorials on how to install and configure Socrates theme and other Wordrpess basics.
Is there anything I don't like Socrates theme?  Yes, there is. I don't like Socrates' niche header in its library.  I think they are ugly.  My suggestion is that you design your own header image which is 960×150 pixels.  If you don't know how to do it, ask someone to do it.  It only costs about $20-30.  An attractive header makes a huge difference in the overall appearance of your website.
Other than that, I am very happy with Socrates theme and I have built several websites using it.  It is definitely one of the best premium WordPress themes on the market.  You won't go wrong with it.
Oh, by the way, this website you are visiting now is built by Socrates theme.  Do you like it?
Socrates Theme Holiday Sale
The unlimited domain license is on sale for only $57.  It is $20 off, the biggest discount ever! (I bought mine at $77.) The single private license is only $34.  So grab the Unlimited License of Socrates Theme with this $20.00 OFF DISCOUNT.
If you need help building your WordPress website, read my checklist for building a WordPress website quick and easy.
The following two tabs change content below.
Latest posts by Mary Wang (see all)