Last night Feb 20th, 2014, I uploaded a pdf version of my article "Online marketing trends in 2014" to Slideshare.net around 10:40pm.  At 10:46pm, I got an email from SlideShare saying that
Your SlideShare activity was flagged as inappropriate by the community. We looked into it and found that it violates the SlideShare Terms of Service and/or Community Guidelines. Your account marywang95 has therefore been suspended and marked for deletion.

If you have any queries about the suspension (or think we might have made a mistake), please visit our Suspended Users FAQ page.

Thanks!

– The SlideShare Team
At 10:56pm, I got another email from SlideShare saying that the article was successfully uploaded.  When I clicked on the link, I got the following message:
If you take look at "Online marketing trends in 2014", you will find that this article is about 5 online marketing trends in 2014.  I read SlideShare's suspended user FAQ page and have no idea which terms my article violates.
We suspend and disable SlideShare accounts that violate our ToS. This includes:
Continued prohibited behavior after receiving a warning or multiple warnings from SlideShare
Unsolicited contact with others for the purpose of harassment, advertisement, selling, dating, or any other inappropriate conduct
Providing false credentials for the purpose of creating an account
Impersonation of any individual, entity, or other misrepresentation of identity
Posting content that violates our terms
The only reason I can think of is that Slideshare's automated system has incorrectly marked my account as suspend.  Brian Kelly's Slideshare account was suspended too with no reason on Sept 25, 2013.  He got it back after 5 days.  I sent out two support tickets to Slideshare but didn't even get a confirmation email from them.
I have been a SlideShare user since 2009.  Though I don't use it heavily, I love it.  On January 14th, I received a congratulation email from Slideshare saying that my content was among the top 5% of the most viewed on SlideShare in 2013.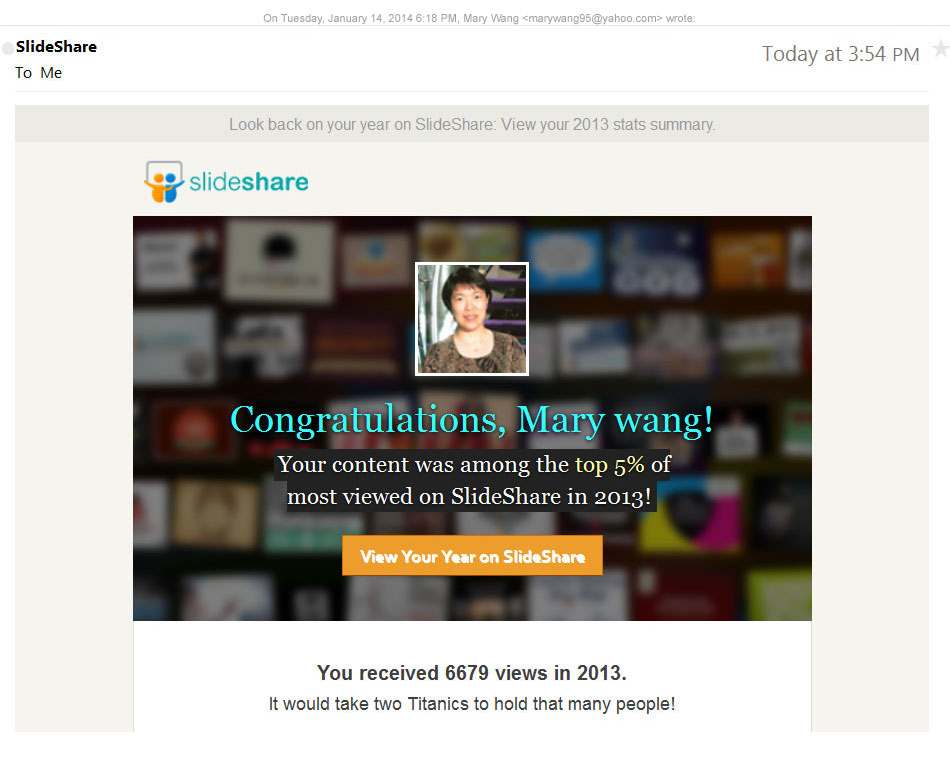 Yeah, ironically a month later my SlideShare account was suspended for no reason and no warning.
This incident raises my great concern about the risks and uncertainty associated with the use of 3rd party services or platforms.  Your email marketing service provider may close your account with no legitimate reason one day.  Your eBay account, Amazon account, or favorite social media accounts can be deleted . . .  All your hard work can be wipe out instantly.  It is scary.  Because they could make mistakes or you make mistakes unknowingly.
SlideShare has been increasingly popular during the recent years.  According to its Google+ profile, it is the world's largest community for sharing presentations online.  It was acquired by LinkedIn in 2012 for $119 million.
I am surprise to find out that SlideShare system does not even send out support ticket confirmation and the company does not have even a customer support phone number.  I hope SlideShare support desk could be more effective and efficient when handling issues like this.
 Here are 5 lessons learned from my SlideShare account suspension:
Do not build your online business solely depending on any 3rd party services or  platforms.  For example, eBay, Amazon, LinkedIn, Facebook, Twitter, etc.
It is critical to build a self-hosted WordPress website that is 100% under your control.
Do open an alternative account just in case.  Because anything could happen to a 3rd party service provider or platform. It is out of your control.
Do backup your content and email list on a regular basis.
Be really careful when you choose which 3rd party service provider or platform to work with.  It is better to use one that has good customer support.
Have you experienced your account suspended by SlideShare or other service provider?  I would love to know your story.
The following two tabs change content below.
Latest posts by Mary Wang (see all)