People nowadays search for information online before they decide to buy at a brick-and-mortar store.  Having a professional-looking website, you can easily reach out to more potential customers and stand out among your competitors.  Even if you do not have any established business, building a quality website with rich content for a niche market can bring you multiple sources of income.  For example, it can generate passive income from advertising, selling affiliate products and membership, etc.  So if you haven't had a website, you've got to create one.
To set up a website, you need to register your domain name and web hosting first.  Domain name is a string of words used to identify computer addresses on the Internet. Commonly points to the top level of a World Wide Web site on a host machine.  In layman's words, it is the name of a website.  www.goldenvisiontraining.com is an example.  A web hosting company provides space on its server to host your website.  I am going to show you step by step how to register your domain name and web hosting.
Choose your domain name
You first choose a keyword phrase using one of the keyword search tools that is related to your business or interest to be your domain name.  Having your main keyword in the domain name will greatly reduce your SEO (search engine optimization) effort.
Register your domain name with Godaddy.com.
Register your domain name with godaddy.com, the #1 domain registrar in the world. It is recommend to register your domain name for 3 to 5 years. Use Godaddy coupon code "DB99CENTS" for $0.99 .com domain register, "TRYIN" for $1.99 .com domain register
Click the banner to order. Just a reminder, you do not need to select any extra services offered by Godaddy.  Because each extra service will cost you a few dollars more.   Once you have finished domain registration, Godday will send you an email with login details.   Please keep the login information handy.
Register web hosting with Hostgator
Hostgator is one of the best hosting companies on the market for its low cost, reliable service with guaranteed 99.9% uptime and high customer satisfaction. Hostgator has different packages to suit your business needs.  I strongly recommend you to use Baby Plan which is $7.95/month. This plan offers unlimited domains, unlimited disk space and unlimited bandwidth.  It means that you can host ALL your websites in just one single web hosting account without paying an extra penny!  It gives you huge room to grow your online business. You can install Word Press easily on Hostgator.   Hostgator provides FREE 24/7 customer service support.  Whenever you need technical help, there is always someone there to answer your call or support you through online chat.
===> Register web hosting with Hostagtor
Click on "Web Hosting", then select Baby Plan.  It is strongly recommended to register for one year for the biggest saving.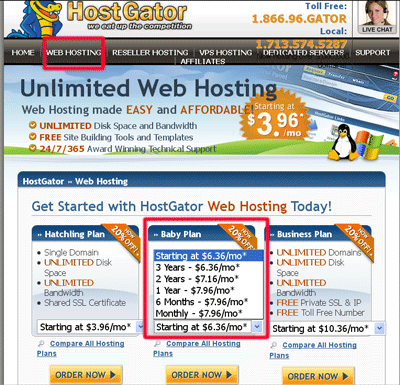 After registration, you will receive an email from Hostgator with nameserver information:
e.g. Your Nameservers:
NS1: ns1293.hostgator.com
NS2: ns1294.hostgator.com
Point your domain name to the domain name server.
1) Log in to Godaddy.com, click on "Visit My Account" then click on "Launch".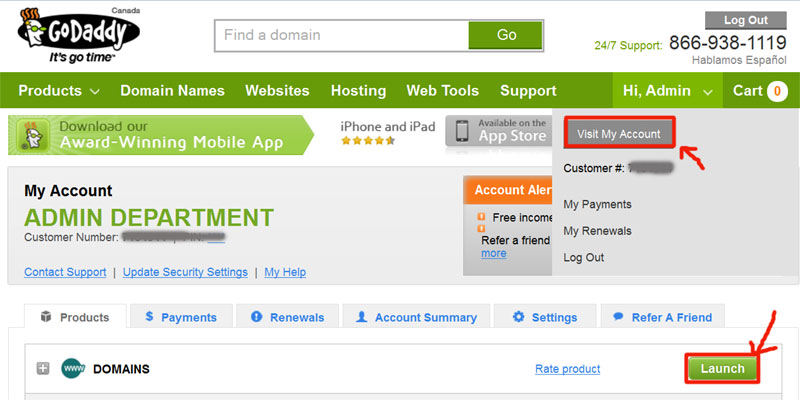 2) Tick the square box in front of your domain name. Click "Nameservers" icon and select "Set Nameservers".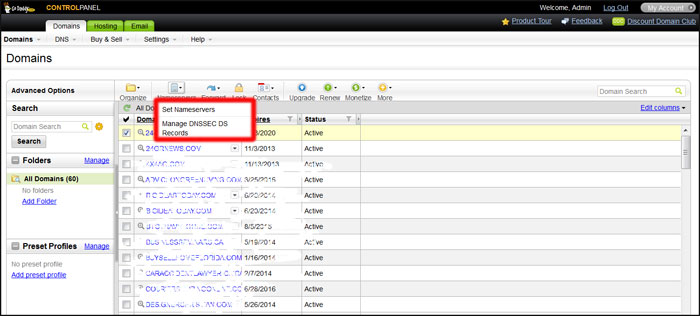 3) Enter NS1 and NS2 info (for example, ns1293.hostgator.com, ns1294.hostgator.com ) into Nameserver 1 and Nameserver 2. Congratulations!!! You are done!!!

Now you know how to register your domain name and web hosting company.  Read more about Internet Marketing Tools.   Join our mailing list to receive 7-step easy to follow Internet marketing plan to help you generate passive income online.
The following two tabs change content below.
Latest posts by Mary Wang (see all)