Do you know there are currently 1 billion Kindle enabled devices on earth and you can read eBooks on your PC, MAC, Smart Phones or Tablet after you install a Kindle application to read all Kindle eBooks?  If you are not sure how to buy and read Amazon Kindle eBooks, here is a step-by-step instruction to walk you through.
1) First click on the book cover image, it will bring you to the "Preview" section.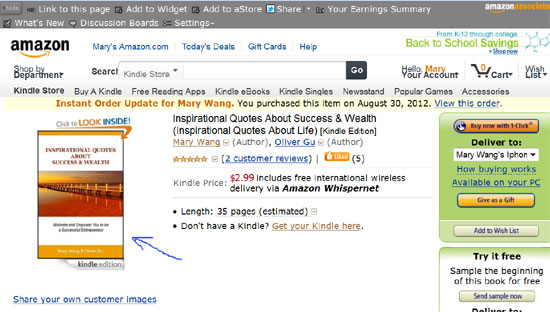 2) Click on the "Buy it with 1-click" button on the left hand side. Then enter your Amazon login information to purchase the book.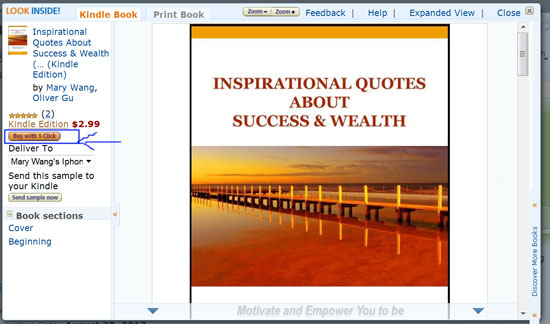 3) Click on  the "Manage you Kindle" link under your account drop down list.  You will see the eBook just purchased in your Kindle Library.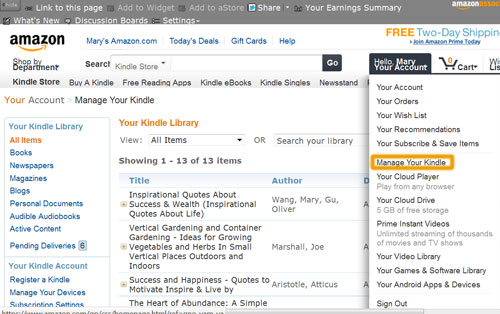 4) Click on the "Action" button to choose to read the eBook on Amazon, your iPhone or PC, etc.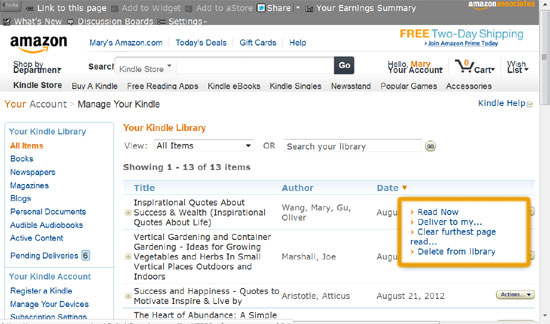 Just to make it clear, you don't need to own a Kindle device to read Kindle eBooks.  You simply need to download one of Amazon free Kindle apps to start reading Kindle books on all your devices. The Kindle app is available for every major smartphone, tablet, and computer. That means with Amazon free Kindle Reading apps, you can buy a Kindle book once, and read it on any device with the Kindle app installed. And of course, you can also read that same Kindle book on a Kindle, Kindle Touch, or Kindle Fire if you own one.  Download a free Kindle Reading Apps.
Now you know how to download and read Kindle eBooks.  It is pretty easy and cool, right? Go ahead to download my new eBook Inspirational Quotes About Success and Wealth. Keep this book handy. Start your day by reading 2 to 3 quotes and meditating them until they become part of your belief system. This book will help you discover your potential to be a successful entrepreneur and leader. You will see great things start to happen in your life. Feel free to share these inspirational quotes with your friends and family.
Enjoy reading Inspirational Quotes About Success and Wealth and many other Kindle eBooks whenever and where ever you want!  Don't forget to leave your review on Amazon.
Contact Mary Wang via email at GoldenVisionTraining.com
The following two tabs change content below.
Latest posts by Mary Wang (see all)