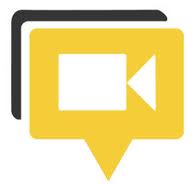 Google Hangout is a live video chat feature that comes with Google Plus.  Anyone with a Google account can apply Google Plus for free.  You simply log in to your Google Plus account to create or join a Google Hangout.  It is free and you can have up to 9 people attended at a time.  It is a cool way to connect with your friends and team.
Here are the cool things you can do with Google Hangouts:
You can share screens with each other
Watch a YouTube video together
Work with Google Docs onscreen during the Hangout
Use SlideShare presentations during the Hangout
Click on any Hangout participant's thumbnail video screen and talk to them directly
The participants can type questions and comments via text message on the side
You can add sound effects to your Google Hangout or "dress up" with added virtual fake mustaches and hats, etc.
To start a Google Hangout is very easy.  Once you log in to your Google Plus account, click on the "Hangouts" button on the left-hand side menu.  If you can't find it, click on the "More" button to locate it.  Then, click on "Start A Hangout" to begin your Google Hangout.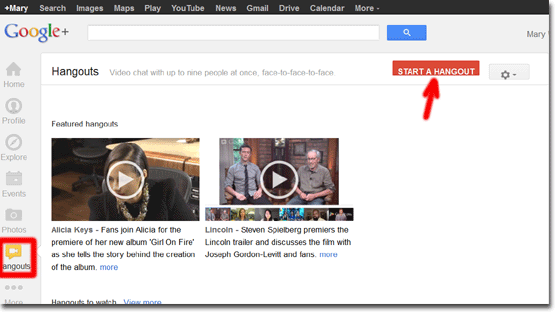 To start a Google Hangout, you will be asked to name your Hangout and add people from your Google Plus circles.  If you would like your Hangout to be live and "stream", check the "Enable hangouts on Air" box.  Your Hangout will be automatically recorded.  Your hangout video will be available on Google+ and on your YouTube channel.  If you want to keep your Hangout private, do not select this option.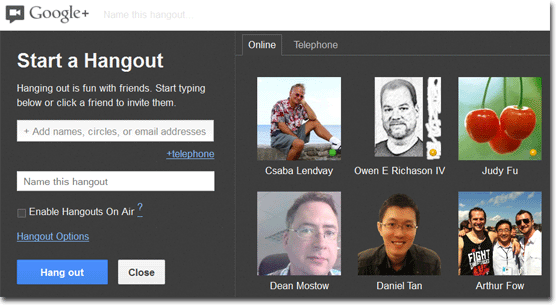 If you want to experience what a Google Hangout looks like, here is a recorded Lincoln movie Google Hangout.  It is quite amazing to see how fans from different locations interacted with Steven Spielberg and Joseph Gordon-Levitt who played Lincoln's son in the movie through Google Hangout and how they watched Lincoln movie trailer together.
If you are familiar with Skype video chat, you may wonder the differences between Google Hangouts and Skype video call.  Basically they do the same thing.  However, in my opinion, Google Hangout has two major advantages that Skype video call does not have.
On a Google Hangout, you can have 10 people (including you) attended for a video chat for free.  However, Skype only allows free one-on-one video chats. You have to upgrade to Skype Premium if you want to hold a group video call.  Though Skype group video call theoretically can have up to 10 people at a time, Skype recommends calls with up to 5 people.
You can share YouTube videos, Google docs and Slideshare presentations on a Google Hangout.  On the other hand, only files can be shared on Skype video call.
That's why more and more people prefer to use Google Hangout video chat.  Google Hangout is powerful, free and fun to use.  If you have never tried a Google Hangout, try it and let me know how you like it.  By the way, I am planning to organize a Google Hangout towards the end of this month.  If you have any questions regarding online marketing and making money online, feel free to submit your questions in the comment area.
The following two tabs change content below.
Latest posts by Mary Wang (see all)