I wrote a blog on How to Search Engine Optimize Your eCommerce Site a couple of years ago. It covers several key points on how to optimize your eCommerce site for search engines. During the past one year I have reviewed many eCommerce sites and worked with several eCommerce clients. I find that many sites were built without a clear search engine optimization plan in mind. The site owner may have spent thousands of dollars on his site. However, how to get people to find those product pages on Google is still clueless.
In this post, I'll share with you 5 essential eCommerce SEO tactics you can implement right away to help people find your products.
eCommerce SEO tactics #1: Use proper keywords in titles and meta description
Use Google Keyword Planner to obtain the most relevant keywords to your product. Brainstorm the variations people use to search the product. Insert them in your product title tag and description tag. Both title and description are shown on Google's search result page. Treat them as an ad of your product.

You need to check each product page to make sure that the title and meta description are optimized. If you are using Magento and you don't manually enter the information, Magento will automatically pull the first few lines and use them as the title and meta description. I can guarantee you that it won't help you attract new visitors.
eCommerce SEO tactics #2: Write unique product descriptions
One major issue with many eCommerce sites is that they either lack product descriptions or have the product descriptions directly copied from the manufacturer's website.
For a product page with just product images, there is no way for search engines to understand what your page is about. Therefore, it will most likely be ignored by search engines.
Using product descriptions from the manufacturer's website is not going to help you in anyways. Because you are not the only one who sell these products. There are many other sites selling them. Most of the sites copy the exact same content from the manufacturer's website. It creates duplicated content. You know Google doesn't like duplicated content and may even punish your eCommerce site mercilessly.
How to fix this problem? Work on each product page to write unique product description. I know it is a lot of work and it is very time-consuming.
To make your life easier, I suggest you start from your best-selling product pages. Focus your SEO on improving the products' parent category by using unique content, internal link and breadcrumbs.
Alternatively, KissMetrics.com recommends that you consider putting a NO INDEX meta tag on product pages that you can't write unique content for. If you have thousands of product pages that you either can't get to, or will be out of your inventory in a matter of days, you'll certainly consider keeping them non-indexed.
eCommerce SEO tactics #3: Use search engine friendly URL
Make sure you configure permalink setting to create search engine friendly product page urls. It helps the search engines and visitors know what your page is about. You can use the following structures for category pages and product pages.
Category Page: YourDomain.com/category/
Sub-category page: YourDomain.com/category/sub-category/
Product page: YourDomain.com/category-sub-category/product-name/
eCommerce SEO tactics #4: Use product keywords in image url and meta tags
Images are searchable on Google. Using proper image meta tags not only help the image rank on Google's image search result page to get free traffic, but also improve the overall search engine optimization of your product page.
For example, your image url can be something like this – http://www.YourDomain.com/images/product-keyword.jpg
The example below shows how Watermaid.ca uses the product keyword "Aquabot Bravo" in the Aqubot Bravo image url to rank the image #1 in the image search result page. This image carries a link to Watermaid's website which brings free traffic to the site.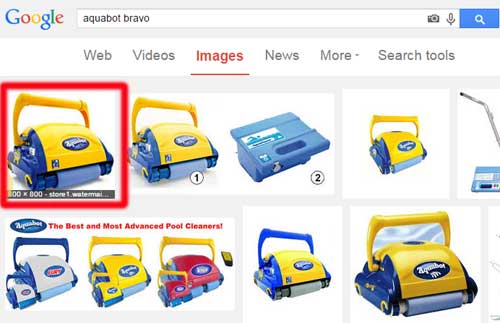 eCommerce SEO tactics #5: Use product reviews to improve SEO
Want to sell more on your eCommerce site? You definitely need to add product reviews on your product pages. Product reviews help your prospects make a buying decision. Amazon customer review is a great example of using this tactic.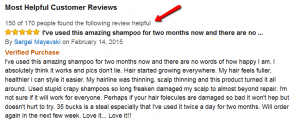 Furthermore, Google loves unique fresh user-generated content. When Google is happy, it'll rank your eCommerce site high on search result pages. Keep in mind, most of your customers will not leave a review. So you need to kindly remind them of writing a review. You may also use incentives to encourage your customers to leave their feedback.
Roman is not built in one day. Building a search engine optimized eCommerce is an on-going process. You will reap the benefit in the long run. Is it worthwhile? Absolutely! I have a client who gets more than 1/3 of traffic from search engine. Go head to implement these 5 essential eCommerce tactics.  Join our mailing list to receive 10 Most Common Website Mistakes eBook.
The following two tabs change content below.
Latest posts by Mary Wang (see all)